Many attendees of Sookshma workshops and classes have been asking for a full day retreat of Sookshma Healing program of Master Sunita. We are happy to finally able to put this together.
If you are looking to simply unwind from day to say stress, or looking for understanding and practicing the essence of True Meditation, or if you are going through any psychosomatic illness, or if you want to understand what is Soul and how to attain Soul Realization, Sookshma Program will surely help you achieve overall wellbeing and Soul Realization from inside out.
We look forward to have your cordial presence for this retreat and make it a huge success. Please feel free to contact Suman Kollipara at DrSuman@Gmail.com or directly at 778-882-7656 if you have any further questions about the retreat.
Purchase tickets at the link below. Buy early to secure your spot at the lowest rate. Healthy Lunch and Snacks provided at event.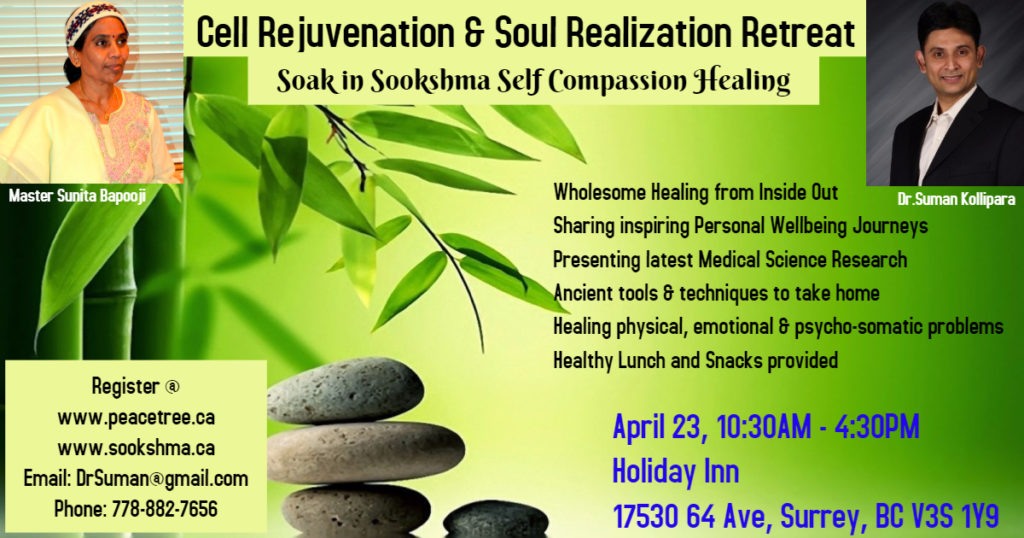 Venue: Holiday Inn, 17530 64 Ave, Surrey, BC V3S1Y9
Buy tickets early to secure your spot.

Wholesome healing from Inside Out
Sharing inspiring Personal Wellbeing Journeys
Presenting latest Medical Science Research
Ancient tools & techniques to take home
Healing physical, emotional & psycho-somatic problems
Healthy Lunch and Snacks provided